Kaede Otsu Urareta Aidoru Akai Heya no Akumu | 楓 墜つ 売られたアイドル 紅い部屋の悪夢
This time featuring that a slightly adult-ish and slender idol. In her producer's vicious scheme, she is taken into a room of a fixer of the entertainment industry. Earlier or later she comes to realize that she was sold by the producer, subordinate men start assaulting her. Their fierce humiliating molestation makes her cum again and again, then, in distress of being sold, she is raped and given internal cumshot by the fixer who looks ugly and has a large body, gradually corrupting into his mistress.

Subordinate men pushes her limbs down on the ground and caress her sensitive nipples, finger her cunt to bring her to orgasm that makes her cry. Then one puts his penis into her mouth to get an oral cumshot while she is exhausted from too much orgasms by vibrators on nipples and clitoris. Although she is floundering in pleasure, the ugly fixer penetrates her from behind. Having the fixer's huge cock inserted, she loudly moans. Her nipples, personal erogenous zones of hers, are fondled in sitting sex position until she reaches climax by his massive creampie. By the large guy's oppressive mating press, the idol is defeated and corrupted into his mistress.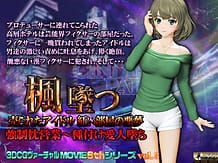 Add as Favorite
Report this Area