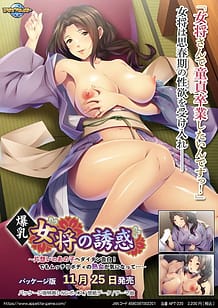 [Appetite] Bakunyuu Okami no Yuuwaku -Kataomoi no Ano Ko e Daitan Kokuhaku! Demo Mucchiri Body no Jukujo ga Ki ni Natte
[221104][アパタイト] 爆乳女将の誘惑 ~片想いのあの子へダイタン告白!でもムッチリボディの熟女が気になって…~
Yamaha Shuyu confesses to a girl he has feelings for on a trip, She hoped that she would be in a relationship and that she would graduate from virginity.

However, things change when he meets Sayako Arakawa, the beautiful mature woman proprietress of the inn where he is staying.

Due to a certain notch, Funayu became conscious of Sayako as a woman. For the sake of graduating from virginity, the proprietress Sayako, is neglected by her unrequited crush...