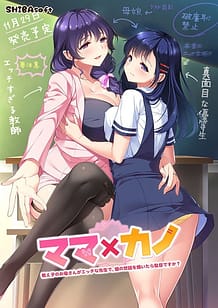 [191129][しばそふと] ママ×カノ~教え子のお母さんがエッチな先生で、娘の世話を焼いたら駄目ですか?~
[191129][Shibasoft] Mama x Kano -Oshiego no Okaa-san ga Ecchi na Sensei de Musume no Sewa o Yaitara Dame Desu ka
Ikushima Satoshi was determined to become a teacher because he was amazed by his first love and ideal teacher, Takatsuki Sawako. Although initially failed, Satoshi managed to get a job as a teacher at his former school.

Unfortunately Sawako has stopped being a teacher at the school. But there is Satoshi's student Yuuna who have the same aura as Sawako, Sawako's daughter.

The opportunity to meet Sawako finally came back. When Satoshi finds it difficult to find a place to stay, Sawako gladly offers to live together. Of course, Yuuna refused, but Sawako also didn't want to lose. In this way, the love story between the teacher and student plus their biological mother begins!