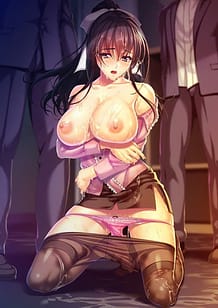 [191129][ワッフル] いかにして俺の妻は孕んだか……
[191129][Waffle] Ikani Shite Ore no Tsuma wa Haranda ka
Female teacher Aoi Rina who works for private Yorokonishi school was the center of happiness. The newly-married life with the husband Junya, highest praise just now.

Female teacher senpai Hiura Machiko Consultation partner, Female teacher of junior Sugitani Kaho, loves oneself.

There was no sorrow. But in the back of happiness of such Rina, Machiko with the worry that the child cannot do with a husband, it knows the husband can not have children.

To Kaho, the face in the back that Rina do not know exists and to Machiko and Kaho, distorted envy and hatred, it comes to show a fang to Rina gradually...
Romaji
Ikani Shite Ore no Tsuma wa Haranda ka