Hentai Games & Visual Novel Downloads - Q
Hentai Games & Visual Novels Direct Downloads. Get latest Hentai Game Releases from Japan. Play all or Games there is no Download Limit. Huge Hentai Game Download Archive.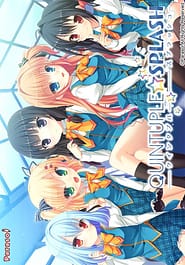 Quintuple Splash
Release 25.12.2015
Sakiomi is a student at Seiryou Gakuen, a girls' school which just recently became co-ed. One day after final exams and before spring break, the school chairwoman suddenly gathered everyone together to announce that due to financial difficulties, the school will be shuttered and merged with its sister school, Shiraho Girls' School. All the students had to move to the other town, and Sakiomi found himself surrounded by girls at a townhouse dormitory, including former student council president Sae, osananajimi Mio and imouto Tomoe.

Just before the start of the new school term, he unthinkingly walked towards the pool after attending the information session at his new school. He noticed a beautiful girl Sahori there, and it would be the beginning of a love story centered around him.
Bishoujo
Female Student
Incest
Lolicon
Love
Maid
Pantyhose
School Life
School Swimsuit
Sister
Stockings
Qualiaffordance
Release 31.05.2013
Kazuki is your typical shy boy who couldn't turn down a request nor doubt others. However, after one summer vacation incident, he became able to see the 'colours' of other people's emotions. Something deep in his heart warned him not to look at it. However, as he became closer to the heroines, the ordinary becomes the extraordinary.
Bakunyuu
Female Student
Incest
Inseki
Kyonyuu
Lolicon
Oppai
School Life
Sister