Latest Moekyun Updates
Latest Updates to all or Hentai Movies, Hentai Games, Doujinshi - Manga - Magazinen and Animes. Don't wait get Unlimited Access to Moekyun!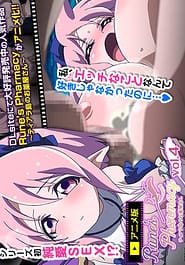 Runes Pharmacy - The Pharmacist of Tiara Isle 04
English Subbed
Episode 04
The town bridge on Tiara Isle collapses after a large earthquake. To fix it, a large amount of silver metal is required, so it is off to the cavern to search for it. In the cavern, Rune is assaulted by slimes, and Sharvan has to save her. She must use her body to show her appreciation...
Ajin
Kyonyuu
Lolicon
Oppai
Oppai Loli
Rape
Honzuki no Gekokujou - 13
English Subbed
Episode 13
Urano Motosu loves books and has an endless desire to read literature, no matter the subject. She almost fulfills her dream job of becoming a librarian before her life is ended in an accident. As she draws her last breath, she wishes to be able to read more books in her next life.

As if fate was listening to her prayer, she wakes up reincarnated as Myne—a frail five-year-old girl living in a medieval era. What immediately comes to her mind is her passion. She tries to find something to read, only to become frustrated by the lack of books at her disposal.

Without the printing press, books have to be written and copied by hand, making them very expensive; as such, only a few nobles can afford them—but this wont stop Myne. She will prove that her will to read is unbreakable, and if there are no books around, she will make them herself!
Ore wo Suki nano wa Omae dake ka yo - 12
English Subbed
Episode 12
Amatsuyu "Jouro" Kisaragi is a completely average second-year high school student who has two dates over one weekend⁠—with the student council president Sakura "Cosmos" Akino on Saturday, then with his childhood friend Aoi "Himawari" Hinata on Sunday. Sadly for Jouro, both girls proclaim their love for his best friend Taiyou "Sun-chan" Ooga, the ace of the baseball team. Accepting each of their requests for advice and guidance, he is now responsible for helping the two girls win the heart of the same guy.

Unbeknownst to his friends, Jouros friendly and obtuse image is all but a ruse designed to cast himself as the clueless protagonist of a textbook romantic comedy. A schemer under his cheery facade, he makes the best of this unexpected turn of events with a new plan: get Sun-chan to fall for either Cosmos or Himawari and take the other as his own prize. But Jouros last-ditch effort is threatened by the gloomy, four-eyed Sumireko "Pansy" Sanshokuin, who surprises Jouro with not only her knowledge of his secret personality but also a confession to the true self he hid for all this time.

Stuck in this hilariously messy situation, each of the five students must navigate countless lies, traps, and misunderstandings to come out on top.
Mugen no Juunin - Immortal - 13
English Subbed
Episode 13
Manji is an immortal swordsman, who has been cursed with eternal life. He has grown tired of living with all the death he has created. He has no skills other than those of killing, thus he forms a plan to regain his mortality: he shall kill one hundred evil men for each good one he has killed. The old witch who afflicted Manji with immortality agrees to Manji's proposition and Manji is set on his path to kill one thousand evil men. On his journey he meets a young girl, Rin, who has her own vengeance to seek against the sword school whose members slaughtered Rin's family. Rin and Manji journey together, each hoping to find some kind of peace. In their way are many varied enemies. Rin and Manji are almost constantly under attack and must learn to live their lives, avoiding being consumed by revenge.
Action
Adventure
Drama
Historical
Martial Arts
Samurai
Seinen
Supernatural
Shinchou Yuusha - 11
English Subbed
Episode 11
There is a popular saying: "you can never be too careful." It is very important to prepare for every situation you may face, even if it seems like an unnecessary waste of time. Also, in games like RPGs, it is good to exceed the level of your enemies to achieve total victory.

These words describe Seiya Ryuuguuin a little too perfectly. After being summoned by the goddess Ristarte to save the world of Gaeabrande from destruction, the hero prepares himself for his noble journey. While this might be normal, he spends a very long time training himself, despite having overpowered stats. He fights weak enemies using his strongest skills and buys excessive amounts of supplies and potions—all to stay safe.

While his attitude may be a bit annoying, it might just be the saving grace of Gaeabrande, especially considering that it is a world where the forces of evil dominate each and every expectation.
Action
Adventure
Comedy
Fantasy
Radiant S2 - 13
English Subbed
Episode 13
Second season of Radiant.
Action
Adventure
Fantasy
Magic